Before I start this review, I want to say that I really like Nokia's products. Nokia's stuff has a kind of overall product integrity that reminds me very much of Apple. All of the Nokia phones I've owned have had a very solid feel. Their interface design is solid too. They seem to focus on quality more than flash. Notwithstanding some funky phone designs, they went through a bad start to 2004 and are now in a strong start to 2005.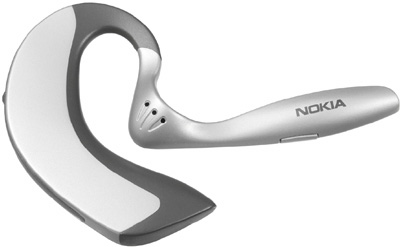 The focus of this review is the HS-4W bluetooth headset . I've owned a few headsets, notably the Sony Ericsson HBH-20 which was shite and the HBH-30 which wasn't so bad. But the HS-4W really jumps out of the pack for me.
First of all is the attractive industrial design. It's got a very sleek look. It looks good on the ear and in the hand. Also, it's a one-piece design with no moving parts. Their innovative solution to the left/right problem is a bi-directional speaker that fits both ways. I wore it for a few hours yesterday and today and so far it's been very comfortable, and very light-weight. I've never felt like it might slip off, and a shook my head a bit in front of the mirror and it stayed on solid.
The controls are also well designed. The pick-up/hang-up button is located on the boom and all the other controls are on the back of the ear. That way, there's no risk of accidentally disconnecting your party while you fiddle with the volume. The volume control is a rocker switch that feels quite different from the power button. In addition, at least with my Nokia 7610 I could control the volume from the phone as well.
Of course sound quality is the most important thing. I've used it both with OS X's iChat and with my phone and the sound quality is very high. It's as good on my end as holding the phone to the ear… maybe a bit better actually. On the other end I'm told it sounds very good, in fact my other party said he couldn't tell I was on the headset.
The boom mic may have a lot to do with that and it's one of the reasons I bought this headset. It sticks out quite a ways towards the mouth but doesn't get in the way at all.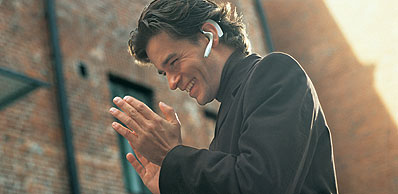 I paid about $100 USD for this (production) unit.