The Entire Cast of Futurama — someone should make a poster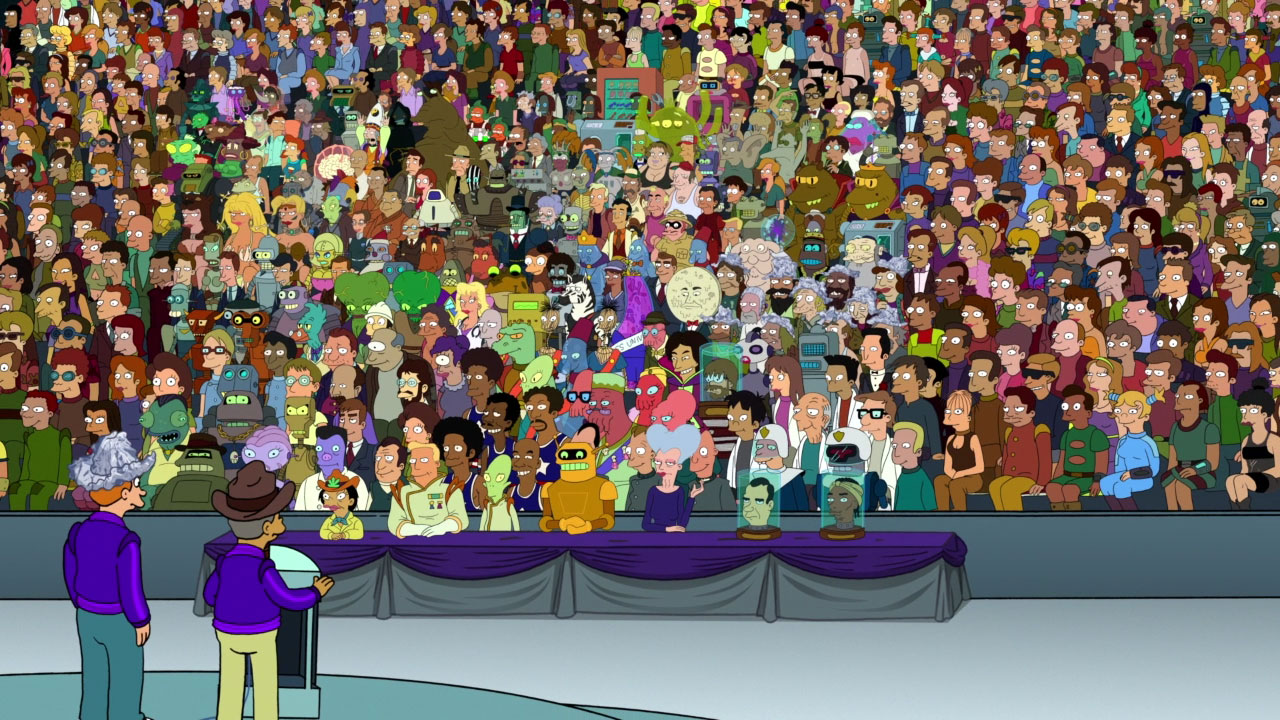 Here is as close as we've ever got to a poster of the entire cast of Futurama… from their most recent direct-to-DVD movie Into the Wild Green Yonder. It's notable for two things in my mind: first, it doesn't include most of the principles (they would be easy to add) and second, wow, Futurama just doesn't have as many characters as Simpsons. Simpsons has a LOT of characters. What do they say, 50 active on-going basis? That's a lot.
And now my fellow Earthicans … More Futurama is Coming …
Comedy Central was happy with the specials and with the 72 produced episodes of "Futurama" it acquired from 20th Century Fox TV in 2006. "Yet there is nothing like new, self-contained episodes week to week," said David Bernath, Comedy Central's senior vp programming. "This is all about reinvigorating the franchise, giving it a new burst of energy."
In other words, futurama pays.
OK, this is stupid but I came up with this joke for Zap Brannigan.
SCENE: ZAP BRANNIGAN IS YET AGAIN TAKING CHARGE OF A
TOP-PRIORITY MILITARY MISSION BY DRAFTING SOMEONE. LET'S SAY
LEELA. IT COULD BE ANYONE, THOUGH.

ZAP: Ahh, do you remember me? I'm Zap Brannigan.
Captain Zap Brannigan. I put myself in your charge.

SOMEONE: How generous of you.

ZAP: By which I mean I put myself in Charge. Of You.
Lame joke? Maybe. But I don't see YOU making up jokes and blogging them for everyone to see.