Reise Zum Mars film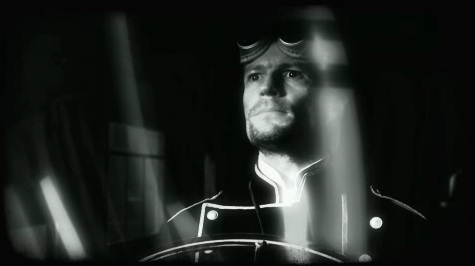 Mucho thanks to The Cartoonist for discovering this lovely Steampunk film "Reise Zum Mars" (journey to mars, in german). Made by german film student Sebastian Binder, along with Fabien Grodde and Alexander Schumann, it's a short film based on a draft screenplay by Walter Dexel, an early 20th Century Constructivist. But don't worry, it's just music and action, so there's no need to know any german to watch it. And what's more, the lyrics to the song are in english anyway.
And you can watch it at their cool web site, which also has some interesting making-of videos.
Unfortunately they only show the video at the original size. So, if you want to watch it full screen, here is a direct download link that I hacked out of their SWF file: Reise Zum Mars direct FLV download (106MB).
Overall I have only two criticisms: one, that it needs an increase in brightness, it's quite difficult to make out what's happening. This is a simple post-production blunder. Second, the music is a little heavy. On the other hand, the silent-movie farce kind of atmosphere/acting works well.
I love steampunk, and I love this film.